Shannon Bream is guest hosting the Kelly File tonight and decided to have anti-Semitic UNRWA tool Chris Gunness on following Brook Goldstein's exposure of he UNRWA anti-Semitic teachings. Like a typical, snotty, European trash, Chris Gunness continued talked over Bream and tried to discredit Broook Goldstein's report. He even claimed that that Hamas didn't launch any rockets from one of the UNRWA schools that was blown up. This despite reports on the UNRWA website condemning Hamas for placing rockets for the second time at school. Oh BTW, this is the same Chris Gunness who broke out the crockdile tears on Arab Tv after the incidents happened. He's a real piece of garbage.
After getting destroyed by Shannon Bream, Chris Gunness decided to go whine on Twitter and beg for re-tweets:
#TheKellyFile broadcast a film against UNRWA which was not filmed in our facilities. Fox duped by #BrookeGoldstein. Shame on Fox. RT

— Chris Gunness (@ChrisGunness) August 6, 2014
Watch the following video of Shannon Bream with both Brooke Goldstein and UNRWA assclown Chris Gunness. If you want to skip ahead to the real fireworks, go to about 9 minutes and 30 seconds of the following video.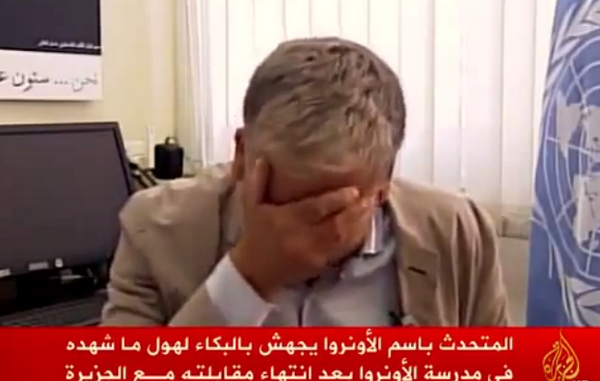 Shannon Bream destroys UNRWA tool Chris Gunness VIDEO
He probably went back to his office after the latest tweet and cried again. The calm beat down by Shannon Bream was awesome. Now, he's getting owned on social media.