Bang Bang Clinton's Silver Hammer...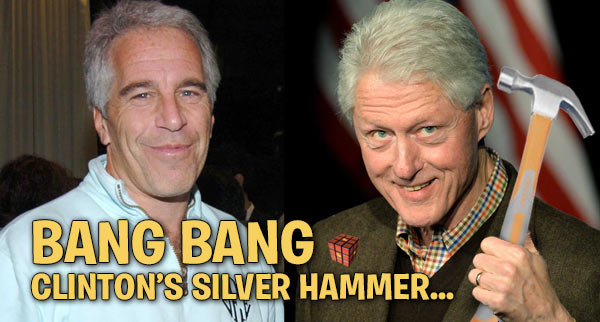 Barr got quizzical, Hillary was cynical
Evidence points to her
Late nights all alone scrubbing emails
Oh, oh, oh, oh

Jeff Edward Epstein, purveyor of under nines
Calls Bill on the phone
"Can I take you out to the Island
Bubba--all alone?"

But as Bill's getting ready to go
A knock comes on the door

Bang! Bang! Durham's silver hammer
Came down on Hill's head
Bang! John Durham's silver hammer
Made Hillary dread

Back in D.C. again Clinton plays P.C. again
Nadler gets annoyed
Wishing to avoid an unpleasant
Sce, e, e, ene

She tells Bill to stay while they drag her ass away
So he waits behind
Writing fifty times "I did not fly
There more than four"

But when she turns her back on the Press
Jeff creeps up from behind

Bang! Bang! Epstein's silver hammer
Came down upon her head
Bang! Jeff Epstein's silver hammer
Put Clinton to bed

Said witness thirty-one, "There she is the dirty one"
Epstein's not alone
Painting testimonial pictures
Oh, oh, oh, oh

Barry and Valerie, screaming from the gallery
Say he must go free
(Epstein must go free)
The judge does not agree and he tells them
No, o, o, o

But as the words are leaving his lips
A noise comes from behind

Yank! Yank! Clinton's silver necktie
Pulled up on his head
Yank! Yank! Clinton's silver necktie
Made sure Jeff was dead

Whoa, oh, oh, oh
Silver-necktied Clinton hitman.
_________________________
A submission from a reader.
read more ...
Statistics
: 1 Post || 251 Views Post by
Red Square