Broccoli futures up sharply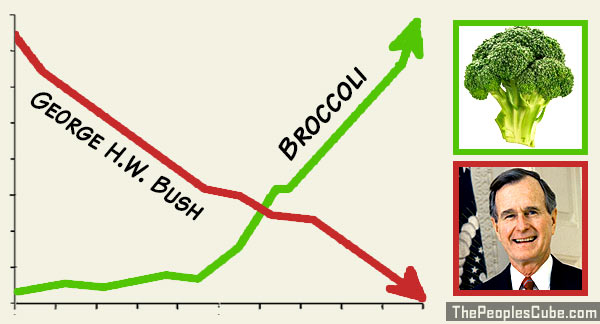 From The People's News:
Broccoli futures rose sharply Saturday in off-hours trading on the news of US former President George H. W. Bush having died.
US commodities traders expect a long-depressed broccoli market to return now that no one important is saying any more that he doesn't like broccoli.
We sent a reporter out to Tractor Barn #2 to ask if some of next year's beet acreage will instead be planted to broccoli to meet increased demand, but no one would talk to us. Our reporter was told, through a crack in the door, that Comrade Stakhanovets was "unavailable for comment" while our reporter could hear a loud voice inside yelling "YOU CAN'T MAKE VODKA OUT OF THAT STUFF!"
No one was at any of the other tractor barns. Apparently they were all having a meeting somewhere.
That is all we know at this juncture. We will update this story if more information comes available.
read more ...
Statistics
: 3 Replies || 560 Views Post by Mikhail Lysenkomann