Zimmermann Telegram inspires Teutophobic backlash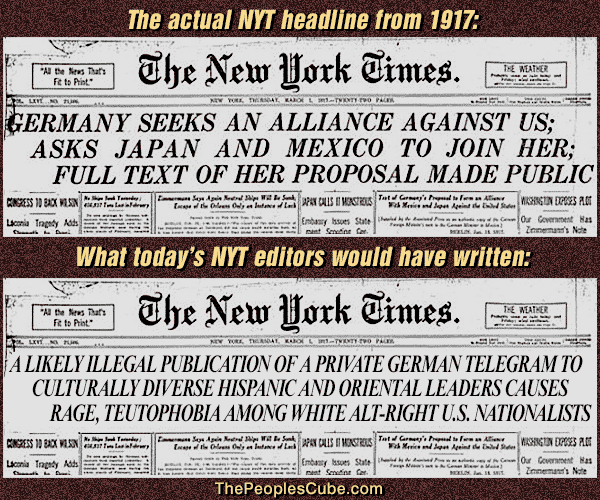 If today's New York Times editors had been in charge in 1917 (strumming harp music)…
A likely illegal publication of a private German telegram to culturally diverse Hispanic and Oriental leaders causes rage, Teutophobia among white alt-right U.S. nationalists
The questionably legal publication of a private German telegram has some alt-right conspiracy buffs attributing the worst possible motives to the German government.
The telegram, which legal experts caution may be illegal for citizens to read, was little more than the German government reaching out to culturally diverse nations about a somewhat complex real estate deal involving the southwestern United States.
The enlightened and progressive German foreign secretary, Arthur Zimmermann, was leading by example as his historically white nation sought to make amends by building bridges to Hispanic and Oriental cultures. But rather than applaud such noble and far-sighted efforts, large, angry crowds of disaffected, white Americans are once again seized with the latest outbreak of Teutophobia.
These angry and undereducated xenophobes point to a series of unrelated, lone wolf attacks against Americans in which, they say, they can "connect the dots". But once the facts are examined, the dot connecting turns up little more than some imaginative paranoia perhaps inspired by spy novels.
For example, the sinking of the Lusitania occurred off the coast of Ireland in 1915. While some Americans were regrettably killed, the possibility of an accidental discharge by a German U-boat remains a likely explanation. If the nations of the world had simply banned the use of submarines, the whole tragedy might have been averted.
Then there was the tragic explosion at Black Tom in New Jersey in 1916 involving some undocumented German citizens who were merely making a statement for peace. Noting the distance between Ireland and New Jersey, it …
Statistics : 2 Post || 1572 Views
Post by Komissar al-Blogunov